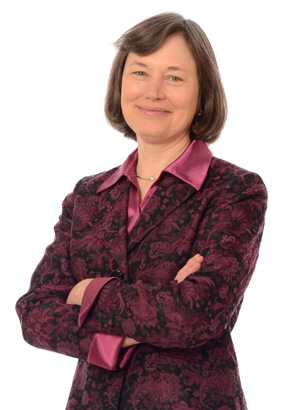 Education
Dickinson School of Law
JD, 1979
Dickinson College
BA, 1976
Admissions
Massachusetts
New York
Vermont
California
"well regarded for her in-depth knowledge of software licensing"
Chambers USA
Karen Copenhaver is listed in The International Who's Who of Internet & e-Commerce Lawyers, Chambers USA, Best Lawyers in America and among the top 50 women Massachusetts Super Lawyers. She has been named the 2013 Boston "Lawyer of the Year" for Copyright Law by Best Lawyers, a designation she also received in 2012 for Information Technology Law, and has been named in The Legal 500 for technology transactions. Ms. Copenhaver is only the 5th lawyer ever to receive Mass High Tech's prestigious "Mass High Tech All-Stars Award," which honors the thought leaders and innovators throughout the New England technology sector. She has been chosen by Intellectual Asset Management magazine as one of the world's top IP strategists in their feature "IAM 250 — A Guide to the World's Leading IP Strategists." She has also been named a top patent and technology licensing practitioner in "IAM Licensing 250" and a world's leading patent practitioner in "IAM Patent 1000."
Ms. Copenhaver is also director of intellectual property strategy for the Linux Foundation.
Practice Focus
Business & Technology Transactions: technology transfer and licensing of intellectual property, particularly in the areas of patent licensing and software licensing and open source business models.
Previous Experience
Black Duck Software: executive vice president and general counsel, where she was instrumental in establishing automated methods of software compliance management as an industry best practice, and she continues to serve on Black Duck's Board of Advisors.
IBM: served as, among other positions, site counsel for the IBM Microelectronics Division, Semiconductor Design and Manufacturing facility in Essex Junction, Vermont.
Publications and Presentations
Ms. Copenhaver has served as an adjunct professor at Suffolk Law School in the field of Computer Law, lectured at Suffolk's Advanced Legal Series conferences on copyright law and sophisticated licensing issues and served as chair for the Practicing Law Institute's annual conference on Structuring, Negotiating and Implementing Strategic Alliances. Ms. Copenhaver is a frequent speaker on issues relating to technology licensing and open source software.
"The Invisible Software Supply Chain and Open Source Compliance," presenter, Black Duck Legal Webinar, June 2012.
"Advanced Licensing Agreement Seminar," speaker, Practising Law Institute, Chicago, April 2012.
"Understanding Legal Best Practices for Android," speaker, O'Reilly Android Open Conference, San Francisco, October 2011.
"Licensing Intellectual Property," guest lecturer, Suffolk Law School Intellectual Property Law Certificate Program, October 2011.
Open Source Think Tank, Paris, September 2011.
"Watching MadMen and Thinking About Open Source," presenter, LinuxCon, Vancouver, Canada, August 2011.
"Open Source Adoption in Auto Industry," presenter, Genivi Alliance 4th Annual All Members Meeting, Dublin, Ireland, May 2011.
"Distinction With or Without a Difference? – Patent Licenses Versus Covenants Not to Sue in International Licenses," presenter, ACC Northeast Chapter, Boston, March 2011.
European Legal and Licensing Workshop, Amsterdam, 2009-2011.
"Indemnities in Intellectual Property Transactions," presenter, Boston Bar Association Brown Bag Lunch Series, December 2010.
"Open Source," speaker, Suffolk University Law School's Center for Advanced Legal Studies' Software Licensing: Principles and Practical Strategies, October 2010.
"Controlling the Use and Manipulation of Open Source in Your Technology License Agreement," panelist, American Conference Institute's Technology Licensing Agreements Forum, March 2010.
"Q&A: It's All About the License," featured, Dr. Dobb's magazine, December 2009.
The Black Duck Legal Webinar Series, presenter, January - December 2009.
"Open Source Software: Keys to Compliance & Policy Development," speaker, National Constitution Center webinar, November 2009.
A Matter of Principles: Shaping a Response to the ALI's New Best Practices for Software Contracts, facilitator, Boston, July 2009.
"Platform: Collaboration Among Counsel," author, International Free and Open Source Software Law Review, July 2009.
"Update on Corporate Open Source Policy Development and Best Practices for Managing Open Source," speaker, Law Seminars International Fifth Annual Advanced Seminar on Open Source Software, San Francisco, June 2009.
"Indemnification in IP Transactions: Critical Issues You Need to Know," speaker, National Constitution Center, May 2009.
"Open Source Legal Issues for Non-Lawyers," moderator, Linux Foundation Collaboration Summit, San Francisco, April 2009.
"Collaboration Among Counsel Celebrating the Formation of a Community of Lawyers for the Advancement of Understanding of Free and Open Source Licensing and Business Models," author, International Free and Open Source Software Law Review, 2009.
"Open Source Policies and Processes for In-Bound Software," author, International Free and Open Source Software Law Review, 2009.
"Open Source Software: Current Developments and Compliance Issues," speaker, National Constitution Center, January 2008.
"Open Source Software 2008: Benefits, Risks and Challenges for Software Users, Developers and Investors," panelist, Practicing Law Institute, New York, November 2008.
"Drafting & Negotiating Patent Licensing Agreements Conference," speaker, West Legalworks, Boston, November 2008.
Open Source Software, co-chair, Law Seminars International, Boston, October 2008.
The Practical and Tactical Art of the Deal in Software Licensing Agreements, co-chair, The American Conference Institute, San Francisco, October 2008.
"Corporate Open Source Policies and Best Practices for Managing Open Source," panelist, Law Seminars International, San Francisco, June 2008.
The Linux Foundation: Collaboration Summit, Austin, April 2008.
The Linux Foundation Legal Summit, Chicago, April 2008.
Open Source Think Tank, Corporate Environment, San Francisco, February 2008.
"Open Source Software," presenter, Brown Bag Lunch Series Suffolk University, March 2007.
Open Source Software Workshop, co-chair, Law Seminars International, May 2007.
Open Source Summit, The Mass Technology Leadership Counsel, Boston, June 2007.
Open Source Annual Meeting, American Bar Association, San Francisco CA August 2007.
2007 Annual Meeting, Intellectual Property Owners Association, New York, September 2007.
Gartner Open Source Summit, Las Vegas, September 2007.
Professional and Community Involvement
Ms. Copenhaver serves on the board of directors of the Center for Women and Enterprise and on the advisory board of Design that Matters - a pro bono client. She is also a Partner with Social Venture Partners Boston.