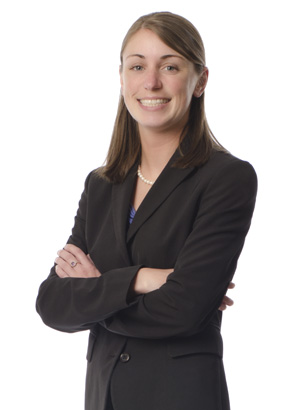 Education
Suffolk University Law School
JD, 2009, summa cum laude
Associate Production Editor, Suffolk University Law Review
Quinnipiac University
BA, 2006, summa cum laude
Rachel Chase participated in the firm's Summer Associate Program after her second year of law school. While in law school, Ms. Chase earned the American Jurisprudence Awards in contracts, commercial paper, securities regulation and federal income tax. She also interned in the legal department at The Talbots, Inc., managing the company's commercial lease portfolio.
Prior to joining Choate, Ms. Chase worked as a consultant attorney in the alternative investments group at Bank of America, focusing on consolidating subsidiary registered investment advisers.
Practice Focus
Finance & Restructuring: represents secured lenders, borrowers and equity sponsors in wide range of financing transactions, including asset-based and cash flow financings.
Corporate & Securities: engages in general corporate and securities matters for public and private companies, including corporate governance, debt and equity financing, venture capital transactions, private placements and ongoing public company representation, including securities law compliance.
Business & Technology: represents companies in a variety of industries in corporate transactions including mergers, acquisitions, leveraged buyouts and strategic partner negotiations.
Representative Engagements
Represented Bank of America, NA as agent and lead lender in connection with $1 billion credit facility established by the Office of Commissioner of Major League Baseball for twenty-one clubs.
Represented various banking institutions in connection with senior secured asset-based credit facilities to retailers and manufacturers.
Represented agent in connection with $165 million syndicated revolving credit facility for Major League Baseball club.
Advises NYSE and NASDAQ listed public companies in securities law compliance and corporate governance issues.
Represented public utilities company in multiple underwritten debt offerings.
Represented agent in connection with $120 million syndicated revolving and term loan credit facilities for National Hockey League team.
Represented insurance company in connection with senior secured and senior subordinated note purchases for National Basketball Association team.
Represented leading private equity fund in significant cross-border investment under exchangeable share structure.
Represented Chapter 11 debtor in connection with Section 363 sale to its senior lender syndicate.
Publications and Presentations
"Tenth Circuit Authorizes Investigatory Stops Based on Past Misdemeanor Offenses- United States v. Moran," author, Suffolk University Law Review, 2008.
"First Circuit Questions Correctional Facility's Blanket Ban on Inmate Preaching- Spratt v. Rhode Island Department of Corrections," author, Suffolk University Law Review, 2008.
Professional and Community Involvement
Ms. Chase regularly provides pro bono legal advice at the Center for Women & Enterprise, a non-profit organization dedicated to helping women start and grow their own businesses. Ms. Chase is also a member of the Boston Bar Association.