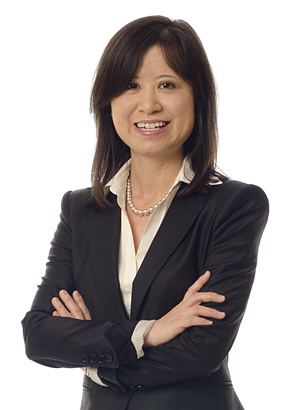 Education
Suffolk University Law School
JD, 2006, cum laude
Massachusetts Institute of Technology
PhD, 2001
Oklahoma State University
MS, 1995
Fudan University (Shanghai, China)
BS, 1990, highest distinction
Admissions
Massachusetts
US Patent & Trademark Office
toggle

52 attorneys at the firm – 79 percent of the firm's equity partners – have been selected for inclusion in The Best Lawyers in America® 2016. Read more...
Dr. Fangli Chen is an IP lawyer with a strong business sense and deep scientific expertise. She obtained a PhD in Biology from the Massachusetts Institute of Technology, where she studied cell death in the laboratory of Nobel Laureate Dr. H. Robert Horvitz. She is able to effectively identify and transform technological developments into valuable intellectual property assets for her clients. Dr. Chen represents all types of companies in the biotech and pharmaceutical industries and specializes in the strategic development of complex IP portfolios for companies that align with their business goals.
Dr. Chen has been recognized for client service excellence in 2015 by Client Choice, and has been named an "Up & Coming Lawyer" by Massachusetts Lawyers Weekly, a Massachusetts Super Lawyers Rising Star and a World's Leading Patent Practitioner by IAM Patent 1000. She has also been listed in Best Lawyers in America, and recognized by Managing Intellectual Property as one of the "Top 250 Women in IP" nationwide.
Practice Focus
Intellectual Property Prosecution: strategic development of complex patent portfolios for companies, universities and research institutions, including preparing and prosecuting patent applications in the fields of biochemistry, molecular and cell biology, immunology, biochemical and molecular diagnostics, pharmaceuticals, microbiology, molecular genetics, pharmacogenomics, recombinant technologies, enzyme replacement therapy, gene therapy, bioinformatics, drug discovery, medical devices and chemistry; due diligence investigations; freedom-to-operate studies; non-infringement and invalidity analysis.
Post-Grant Challenge: represent clients in inter partes review interference and various foreign opposition proceedings.
Technology Transactions & Licensing: advising clients on matters relating to technology or material transfer, licensing and research collaborations.
Investment or Acquisition Counsel: assisting investors in assessing the technology and intellectual property assets and risks for potential target investments and counseling companies on intellectual property matters in connection with public offering or acquisition.
Representative Engagements
Representation of a biotech company in defending its key patent in inter partes review.
Strategic representation of large biopharmaceutical company with regard to their product protection, life cycle management, clearance study and IP diligence in connection with acquisition, license and other business partnership.
Strategic representation of biotech start-up company with regard to protection of their key product, freedom-to-operate and management of their relationship with large biotech partners.
IP counsel to pharmaceutical companies and universities for managing portfolios in areas of pharmacogenomics, recombinant technologies, molecular biology, bioinformatics, drug discovery and small molecules.
Publications and Presentations
"Merck Ruling a Wake-Up Call for Patent Owners Facing PTAB," quoted, IP Law360, December 2015.
"Antibody Drug Protection - Tale of Two Systems," moderator, BIO IPCC Fall Conference, November 2015.
"The Unintended Consequences of IPR," quoted, Life Sciences Intellectual Property Review, June 2015.
"Protecting Natural Product", Panel Moderator, BIO IPCC November 2014.
"Small Business and Intellectual Property," presenter, National Institute of Allergy and Infectious Diseases' Small Business Workshop, September 2014.
"Biomedical Industry – The Next Decade," speaker, Chinese-American BioMedical Association Annual Conference, Boston, May 2014.
"Adopt IP Protections to Ensure Regulatory Exclusivity for Orphan Drugs," co-author, ACC Docket, August 2013.
"Are Biotech Inventions Still Protectable?" co-author, Genetic Engineering & Biotechnology News, June 2010.
"Recent Decisions Curtail Personalized Medicine," co-author, Genetic Engineering & Biotechnology News, May 2009.
"Tough Road for Biotech Patent Prosecution: Strategic Planning Essential Under Amended USPTO Rules for Continuations and Claims," first author, Genetic Engineering & Biotechnology News, November 1, 2007.
"Translocation of C. elegans CED-4 to Nuclear Membranes During Programmed Cell Death," first author, Science 2000.
"Split ends, a new component of the Drosophila EGF receptor pathway, regulates development of the embryonic midline glial cells," first author, Current Biology, 2000.
"Biological characterization of Drosophila Rapgap1, a GTPase activating protein for Rap1," first author, Proc. Natl. Acad. Sci. U.S.A., 1997.
"New class of Son-of-sevenless (Sos) alleles highlights the complexities of Sos function," co-author, Genesis, 2004.
"Split endsis a tissue/promoter specific regulator of Wingless signaling," co-author, Development, 2003.
"A genetic screen for novel components of the Ras/Mitogen-activated protein kinase signaling pathway that interact with the yan gene of Drosophila identifies split ends, a new RNA recognition motif-containing protein," co-author, Genetics, 2000.
"Genetic interactions with Rap1 and Ras1 reveal a second function for the fat facets deubiquitinating enzyme in Drosophila eye development," co-author, Proc. Natl. Acad. Sci. U.S.A., 1997.
"split ends, an RRM protein, is a new component of the RTK/Ras signal transduction pathway" invited speaker, 41st Annual International Drosophila Research Conference, Pittsburgh, PA. 2000.
"Missense mutations in Son-of-sevenless reveal a potential new function of the protein," presenter, 40th Annual International Drosophila Research Conference, 1999.
"Characterization of CED-4 subcellular localization during C. elegans embryogenesis," presenter, East Coast Worm Meeting, 1998.