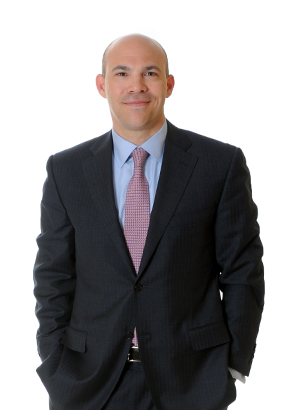 Education
Boston University School of Law
JD, 1994, magna cum laude
University of Vermont
BA, 1989
Admissions
Massachusetts
New York
US Court of Appeals, First & Federal Circuits
Clerkship
Hon. Nancy Gertner of the US District Court for the District of Massachusetts
Michael Bunis is a partner in the firm's Intellectual Property Litigation Practice Group, which has been top-ranked by Chambers USA. He has been recognized by The Legal 500 and as a Massachusetts Super Lawyer.
As a former Global General Manager at Terra Lycos, Mr. Bunis brings a unique understanding of the everyday workings and challenges of a technology operating company. His unique combination of operating company management and deep technology trial experience affords him the ability to "speak the same language" as his clients and (perhaps more importantly) the adverse witness. He also regularly meets with technology industry executives to discuss issues threatening innovation, offering risk management perspectives and litigation avoidance best practices.
Practice Focus
Trade Secret Litigation: counsels plaintiffs seeking to protect proprietary information and defendants accused of misappropriation in trade secret cases across US from broad spectrum of technologies – from robotics to semiconductors, from restriction enzymes used in polymerase chain reaction process to scintillator crystal detector arrays for conducting computed tomogrpaphy (CT) imaging.
Intellectual Property Litigation: counsels operating companies and private equity firms in all aspects of intellectual property from litigation of disputes to negotiation of complex licensing agreements to the acquisition of intangible assets.
Representative Engagements
Trade Secret Litigation
Represented mobile CT manufacturer and its founders in declaratory judgment action seeking to quash threats made by former employer. Lawsuit sought declaration of non-infringement, invalidity and unenforceability of patents as well as declaration that company and former employees did not misappropriate any trade secrets and abided by their fiduciary duties. Technology related to computed tomography with specific emphasis on detector arrays, scintillator crystals and data acquisition systems.
NeuroLogica v. Analogic, D Mass
Represented mobile CT manufacturer in lawsuit against former Principal Mechanical Engineer and new employer. Lawsuit alleged former employee misappropriated confidential information and violated non-compete obligations by working simultaneously for both companies. Complaint filed after forensic search revealed former employee's download of multiple engineering files from NeuroLogica's engineering document control system just prior to employee commencing work for new company.
NeuroLogica V. Mobius Imaging LLC, Mass Superior Court
Represented iRobot, publicly traded provider of tactical military robots, in trade secret and patent infringement suit against industry competitor. Following five day evidentiary hearing, iRobot obtained preliminary injunction preventing production and sale of Defendants' robots that included iRobot's trade secret information stolen by former iRobot employee. As a result of this injunction, iRobot was awarded $300 million contract with the United States Military for supply of tactical robots to soldiers in Iraq and Afghanistan.
iRobot Corporation v. Robotic FX, Inc., D Mass
Counsel to EMC in several cases relating to former key employees who left company to found commercial rival using stolen trade secrets. EMC has already obtained preliminary injunction in two of the cases. In addition, three arbitration matters are pending versus former employees for violations pertaining to key employee contract violations.
Represent New England BioLabs, leader in production of and supply of reagents for life sciences industry, regarding theft of trade secrets by former employees and founders with respect to new company.
New England BioLabs v. Enzymatics
Intellectual Property Litigation
Represented patent owner in enforcement action against Taiwanese manufacturer of "knock-off" infringing goods that were shipped to United States. Technology directed to fiber knitting technology used to create unique breathable fleece outerwear.
Polartec v. Kingwhale, et al.,D Mass
Represent Defendant manufacturer and seller of reusable lancet medical devices designed for testing blood glucose levels in patent infringement action. Plaintiff alleges Defendant's products infringe five separate patents directed to various lancet designs.
Stat Medical Devices Inc. v. Facet Technologies, LLC, et al., D Del
Represented Defendant manufacturer of high quality fleece outerwear in lawsuit alleging infringement of patent directed three-end-fire-resistant-fleece used for a fire fighter's turnout coat. Obtained complete victory at both District Court and Court of Appeals for Federal Circuit resulting in Plaintiff patent owner filing Motion to Dismiss (with prejudice).
Southern Mills, Inc. v. Polartec LLC, ND Ga
Represented Respondent Japanese manufacturer of probe cards in United States International Trade Commission Section 337 Investigation. Tried (first chair) five patent semiconductor test equipment case. Technology at issue related to semiconductor test equipment manufactured using micro-electrical-mechanical systems (MEMs). After nine-day trial, obtained complete victory on behalf of Respondent Micronics Japan Company, Ltd. – invalidating one patent and establishing non-infringement and no domestic industry for remaining asserted patents.
In the Matter of Certain Probe Card Assemblies, Components Thereof and Certain Tested DRAM and NAND Flash Memory Devices, Investigation No. 337 – TA – 621
Defended Internet Portal Lycos in patent infringement action brought in Eastern District of Texas by patent licensing and enforcement company. Negotiated pre-discovery resolution on extremely favorable terms. Technology related to Internet dating services.
Netdate of Texas, LLC v. Lycos, ED Tx
Represented Kyphon in asserting patents directed to balloon kyphoplasty procedures for treating vertebral compression fractures (osteoporosis). Litigation included claim of misappropriation of trade secrets by Medtronic. Dispute resolved through Medtronic's $3.9 billion purchase of Kyphon.
Kyphon v. Medtronic, WD Tenn
Represented software manufacturer as both plaintiff-patentee and defendant-accused infringer in two separate, simultaneous litigations in District of Massachusetts and Northern District of California. Technology related to Device Relationship Management systems for remote monitoring.
Axeda v. Questra, D Mass
Defended Stride Rite against infringement action brought by individual inventor in District of Maryland. Negotiated settlement agreement with total indemnification from supplier.
Cherdak v. Stride Rite Corporation, SD Fla
Represented Defendant national real estate development firm accused of violations of Lanham Act including trademark infringement and unfair competition. Successfully prevented Plaintiff trademark owner's attempt to secure preliminary injunctive relief allowing for continued marketing of Defendants' completed multi-million dollar real estate development project.
Heller Industrial Parks, Inc. v. IronState Development LLC, et al., D NJ
Represented manufacturer of revolutionary advanced flex-based dual in-line memory modules. Litigation involved false statements made by Kentron and its principal to JEDEC Solid State Technology Association and Defendants' conduct before this standards setting body.
Staktek v. Kentron, D Mass
Brought declaratory judgment action in District of Massachusetts against software and hardware vendor who repeatedly threatened litigation in unfavorable venue. Matter relates to enforceability of unexecuted shrink-wrap license agreement.
Stride Rite Corporation v. Verotix Systems, Inc., D Mass
Counseled private equity fund on acquisition of patent revenue streams for subsequent securitization. Technology generally relates to software and other forms of IT.
Represented private equity fund focused on acquisitions of public and private software companies. Perform intellectual property due diligence on targets and provide advice concerning pending intellectual property related litigation.
Publications and Presentations
"Lawyers Weigh in on High Court's Patent Rulings," quoted, IP Law360, April 2014.
"Trade Secrecy: Massachusetts Update," speaker, 16th Annual New England Intellectual Property Law Conference 2013, Boston, June 2013.
"Distinguished Speaker Series," speaker, The Gordon Engineering Leadership Program at Northeastern University, Boston, November 2012.
"Trends in Trade Secret Litigation," interviewed, The Metropolitan Corporate Counsel, November 2012.
"Patent Trolls Taking Toll on Tech Companies, Innovation," quoted, Boston Business Journal, January 2012.
"Balancing Right of Publicity and the 1st Amendment," co-author, IP Law360, July 2010.
"Rambus Rehearing to Shed Light on Doc Preservation," quoted, Intellectual Property Law360, June 2010.
"The Protection and Enforcement of Intellectual Property Rights," presenter, Technology Workshops in Technology Entrepreneurship for
Invention2Venture, 2008.
"Structuring Royalty Provisions in Patent Licenses," speaker, West Legal Works 2007 Intellectual Property Law Summit, 2007.
"IP Value and the Cycle of Capital: Leveraging IP to Grow a Business," speaker, Technology Business Council of the Greater Dallas Chamber of Commerce, 2007.
"Monetizing Intellectual Property through IP Securitization and Structured Finance," speaker, Corporate Counsel Magazine Annual General Counsel's West Conference, 2007.
"Protecting Intellectual Property," speaker, National Collegiate Inventors and Inventorship Alliance, 2007.
"Intellectual Property Due Diligence," speaker, video presentation for VC Experts Roundtable, 2007.
Professional and Community Involvement
Mr. Bunis is a member of the firm's Executive and Hiring Committees. He served as an adjunct faculty member of Boston University School of Law and is a regular lecturer at the Gordon Engineering Leadership Program at Northeastern University. Mr. Bunis is also a member of the Federal Circuit Bar Association and co-chair of the Boston Patent Law Association Trade Secret Committee.