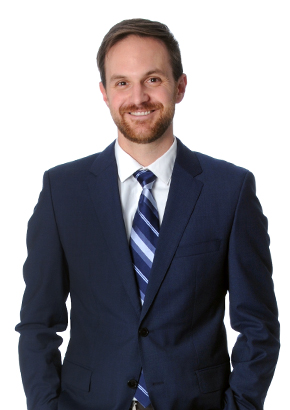 Education
University of Notre Dame PhD, 2014,
Chemical and Biomolecular Engineering
University of Notre Dame MS, 2012,
Chemical and Biomolecular Engineering
University of Florida, BS, 2009,
Chemical Engineering
Dr. Nicholas Contento uses his multidisciplinary expertise in engineering, chemistry, and biology to provide patent prosecution to diverse clients of all sizes.
Practice Focus
Intellectual Property: assists in the preparation and prosecution of patent applications.
Previous Experience
Prior to joining Choate, Dr. Contento was a postdoctoral fellow at the University of Notre Dame working jointly with the Mechanical and Chemical Engineering departments. Dr. Contento developed automated microfluidic devices for the study of mechanotransduction in fruit-fly tissues to better understand how mechanical stresses impact the chemical signaling cascades that orchestrate organ development and regeneration. Before working at Notre Dame, Dr. Contento completed an NRC postdoctoral fellowship at the National Institute of Standards and Technology (NIST) where he developed microfabricated sensing platforms for monitoring high-value bioprocesses using electrochemistry and fluorescence spectroscopy.
Dr. Contento completed his doctoral research in Paul Bohn's laboratory at the University of Notre Dame, which operated across the Analytical Chemistry and Chemical Engineering departments. His dissertation developed new systems for controlling pH in sub-picoliter volumes by tuning relevant transport and reaction parameters in electrode-containing nanopores. Before his PhD, Dr. Contento was a research assistant in Dr. Brij Moudgil's laboratory at the University of Florida's Particle Engineering Research Center where he synthesized dye-doped nanoparticles as theranostic (therapeutic-diagnostic) agents.
Representative Engagements
Assists in patent prosecution for range of clients
Publications and Presentations
"Release of applied mechanical loading stimulates intercellular calcium waves in Drosophila wing discs" co-author, Biophysical Journal, in press.
"Thermal characteristics of temperature-controlled electrochemical microdevices" first author, Sensors and Actuators B: Chemical, 2016.
"Electric field effects on current-voltage relationships in microfluidic channels presenting multiple working electrodes in the weak-coupling limit" first author, Microfluidics and Nanofluidics, 2015.
"Coupled electrokinetic transport and electron transfer at annular nanoband electrodes embedded in cylindrical nanopores" co-author, ChemElectroChem, 2014
"Tunable electrochemical pH modulation in a microchannel monitored via the proton-coupled electro-oxidation of hydroquinone" first author, Biomicrofluidics, 2014
"Redox cycling on recessed ring-disk nanoelectrode arrays in the absence of supporting electrolyte" co-author, Journal of the American Chemical Society, 2014.
"Recessed ring-disk nanoelectrode arrays integrated in nanofluidic structures for selective electrochemical detection" co-author, Analytical Chemistry, 2013.
"Redox cycling in nanoscale-recessed ring-disk electrode arrays for enhanced electrochemical sensitivity" co-author, ACS Nano, 2013.
"Enhanced mass transport of electroactive species to annular nanoband electrodes embedded in nanocapillary array membranes" co-author, Journal of the American Chemical Society, 2012.
"Electrolysis in nanochannels for in situ reagent generation in confined geometries" first author, Lab on a Chip, 2011.
Professional and Community Involvement
Dr. Contento is a member of the American Chemical Society and the Electrochemical Society.