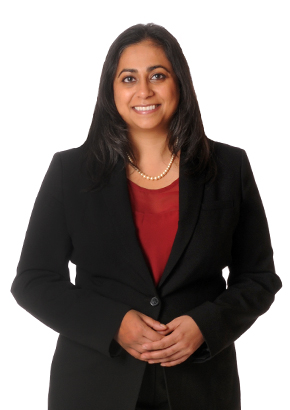 Education
Boston College Law School
JD, 2009, cum laude
Cornell University, CALS
BS, 2001, cum laude
Distinction in Research
Admissions
Massachusetts
US Court of Appeals, Federal Circuit
US Patent & Trademark Office
Nishat Shaikh focuses her practice on patent prosecution and client counseling relating to biotechnology and pharmaceuticals. She represents clients in Hatch-Waxman related patent litigation and analysis in matters relating to biotechnology and pharmaceuticals, and green fuels.
Practice Focus
Patent Prosecution: strategic management of intellectual property portfolios, application drafting and prosecution, particularly pharmaceuticals and biotechnology.
Opinions and Due Diligence: landscape and freedom-to-operate analyses; evaluation of non-patent exclusivities available for pharmaceutical products; non-infringement and invalidity opinions; due diligence reviews in the context of mergers and acquisitions, venture capital financings, internal audits and licensing.
Intellectual Property Litigation: advise and assist large and small pharmaceutical companies in all aspects of Hatch-Waxman litigation. Extensive experience in expert discovery, briefing and analysis relating to claim construction, infringement and validity of challenged patent claims.
Representative prosecution subject matters include algal food, fuel and cosmetic product production and isolation; recombinant plasmins; biomarkers and diagnostic methods; nanoparticle drug delivery systems; long-acting topical treatments for periodontal disease; mixed cell and isolated stem cell compositions for neural tissue repair and vision restoration; purification of proteins from complex biological mixtures; gene therapy constructs; methods of targeted gene delivery and antibody therapeutic discovery, manufacture and use.
Previous Experience
Prior to joining Choate, Ms. Shaikh was an associate at two other Boston law firms, where she prosecuted patent applications in a diverse array of technology areas throughout the world. She has litigated a number of Hatch-Waxman cases for large international corporations as well as a small, privately-held innovator company.
While in law school, Ms. Shaikh served as a student attorney for Boston College Law School's Community Enterprise Clinic, where she provided transactional services and advice to small businesses, nonprofit organizations and community development associations. For this work, she received the 2009 Northeast Chapter of the Association of Corporate Counsel Law Student Ethics Award. Ms. Shaikh was a quarterfinalist in the 2009 J. Braxton Craven, Jr. Memorial Moot Court Competition, a national constitutional law moot court competition.
Prior to practicing law, Ms. Shaikh was a biologist at Applied Molecular Evolution. In that capacity, she developed qualified, and validated numerous ELISA and cell-based assays for the characterization, product development and clinical study of humanized antibody therapeutics. She also drafted reports detailing the results of these studies in support of Biologics License Application filings. Moreover, she has experience in small and large-scale protein production, utilizing a variety of prokaryotic and eukaryotic platforms, as well as protein purification methods suitable for making product of sufficient purity for X-ray crystallography study or drug substance manufacture. During her tenure at AME, the company was acquired by Eli Lilly & Co. This interesting experience, common to many small biotechnology companies, gave her the impetus to seek out a career in intellectual property law.
As an undergraduate, Ms. Shaikh was a Cornell Presidential Research Scholar, a Hughes Scholar, and admitted to the Honors Program in Biological Sciences. Ms. Shaikh's academic research was in the field of folate metabolism. Her honors thesis focused on the study of the relationship between the expression of heavy chain ferritin and cytoplasmic serine hydroxymethyltransferase. She graduated with a degree in Biological Sciences, concentrating in Molecular and Cell Biology.
Representative Engagements
Successfully represented small, privately owned pharmaceutical company in Hatch-Waxman suit over flagship formulation product in both District Court and before the Federal Circuit.
Portfolio analysis in support of corporate financing for company developing regenerative medicine and stem cell technologies for treatment of vision loss.
Prosecuted over 25 patents from filing to allowance within one year for privately held algal fuel start-up through strategic use of USPTO's Green Tech Pilot Program.
Prosecuted a recombinant plasmin portfolio protecting FDA approved product for treatment of vitreomacular adhesion.
Due diligence portfolio assessment of advanced transgene engineering platform in connection with partnership agreement to leverage this technology for controlled and precise cellular production of anti-cancer effectors.
Publications