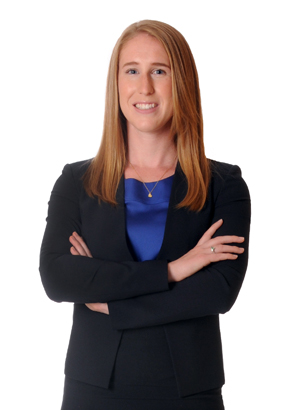 Education
Suffolk University Law School
JD, 2011, cum laude
Managing Editor
Transnational Law Review
College of the Holy Cross
BA, 2008
Sara Bauer focuses her practice on all aspects of trademark and copyright prosecution, enforcement and litigation as well as unfair competition, deceptive business practices, false advertising, social media and website issues; domain name enforcement issues, drafting of contracts, assignments, and terms of use and licenses.
Prior to joining Choate, Ms. Bauer was a trademark & copyright attorney with Fish & Richardson, where she assisted in representing clients on high-profile trademark, trade dress, unfair competition, deceptive business practices and copyright litigation matters through multiple district court proceedings and the First and Second Circuit Courts of Appeals, Court of Federal Claims and Anti Cybersquatting Consumer Protect Act proceedings in the Eastern District of Virginia.
Practice Focus
Intellectual Property: strategic selection, acquisition, development, maintenance and enforcement of domestic and international intellectual property rights, with an emphasis on trademark, trade dress, domain name, copyright and privacy issues.
Intellectual Property Litigation: domain name dispute resolution; trademark infringement proceedings at the Trademark Trial and Appeal Board; trademark and copyright infringement cases in federal court
Representative Engagements
Conduct legal research and draft memoranda on key legal issues such as likelihood of confusion, damages, including accounting of profits, substantial similarity and access for copyright infringement.
Draft briefs and participate in discovery and other trial related projects.
Facilitate and defend opposition and cancellation proceedings before Trademark Trial and Appeal Board.
Analyze preliminary and full trademark clearance searches and provide analysis on availability and strategy to clients.
Negotiate with USPTO Examining Attorneys and draft arguments to overcome registration refusals.
Counsel clients regarding domain name disputes, draft demand letters and UDRP complaints with respect to trademark infringement matters.
Advise clients on various social media and advertising issues.
Draft and review licensing agreements, assignment agreements, terms of use, website terms, consent and release agreements and software development agreements.
Negotiate and draft settlement agreements in connection with trademark, copyright and domain disputes.
Publications and Presentations
"Graffiti Artists Seek IP Credentials: Four Recent Cases," author, Law360, January 2015.
"Supreme Court Issues Decision in Lanham Act False Advertising Case," author, Fish & Richardson Litigation Blog, March 2014.
"Yoga Exercise or Dance," author, Intellectual Property Magazine, March 2013.
"Fear the Crowd – Pitfalls of Crowdsourcing for Innovators," author, Intellectual Property Magazine, November 2012.
"Old Treaty, New Outlook: The Madrid Protocol Empowers Developing Countries," author, The Holy Cross Journal of Law & Public Policy, 2011.
Professional and Community Involvement
Ms. Bauer currently serves as president-elect and board member of the Holy Cross Varsity Club. She is also a member of the International Trademark Association.