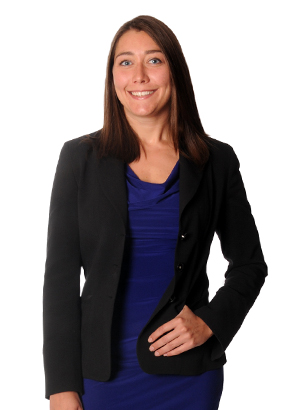 Education
The Pennsylvania State University
PhD, 2011, Biochemistry, Microbiology & Molecular Biology
Lehigh University
BS, 2005, Biochemistry, with honors
Admissions
US Patent & Trademark Office
Tracy Vrablik employs extensive scientific knowledge in the areas of cell and molecular biology, biochemistry, and organic chemistry. Her diverse expertise enables her to deliver a detail-oriented knowledge of clients' technologies with a strategic understanding of their business goals.
Practice Focus
Intellectual Property: assists in the preparation and prosecution of patent applications, patentability and freedom-to-operate analyses, as well as technical analyses for corporate transactions and litigation matters. Dr. Vrablik's work covers technologies including antibodies and antibody conjugates, small molecules, gene therapy vectors, cell-based therapies, genetically engineered organisms, pharmaceutical formulations, analytic methods, and therapeutic methods and regimens.
Previous Experience
Prior to joining Choate, Dr. Vrablik engaged in postdoctoral research at Washington State University, where she combined genetic and biochemical approaches to analyze lipid droplets in C. elegans. Dr. Vrablik obtained her PhD from Penn State University, where she uncovered molecularly distinct roles of the vitamin B3 salvage pathway in the development and physiology of C. elegans. Prior to her PhD, Dr. Vrablik worked on the synthesis and characterization of molecular umbrella conjugates at Lehigh University. She has also worked as a patent agent at another Boston-area law firm.
Representative Engagements
Preparation and prosecution of patent applications directed to biologic and pharmaceutical products and methods, including antibodies and antibody-based technologies, protein and small molecule formulations, pharmaceutical regimens and uses, and genetically engineered organisms.
Assisted in technical analysis for a litigation matter relating to post-translational modifications of protein products.
Conducted freedom-to-operate analyses and other diligence analysis for various aspects of biotech and pharmaceutical products, including bispecific antibodies.
Represented a biotechnology company defending its key antibody patent in an inter partes review.
Select Publications
"Lipidomic and proteomic analysis of Caenorhabditis elegans lipid droplets and identification of ACS-4 as a lipid droplet-associated protein," first author, Biochimica et Biophysica Acta, 2015.
"Polyunsaturated Fatty Acid Derived Signaling in Reproduction and Development: Insights from Caenorhabditis elegans and Drosophila melanogaster," first author, Molecular Reproduction and Development, 2013.
"Emerging Roles for Specific Fatty Acids in Developmental Processes," first author, Genes & Development, 2012.
"NAD+ Salvage Biosynthesis Promotes Muscle Function in C. elegans Via Cell-Specific Responses to Acute and Developmental Nicotinamide Accumulation and NAD+ Depletion," first author, Developmental Biology, 2011.
"Nicotinamidase Modulation of NAD+ Biosynthesis and Nocotinamide Levels Separately Impact Reproductive Development and Cell Survival in C. elegans," first author, Development, 2009.
"Enhanced Hydrolytic Stability and Water Solubility of an Aromatic Nitrogen Mustard by Conjugation with Molecular Umbrellas", Bioconjugate Chem., 2003.
Professional and Community Involvement
Dr. Vrablik is a member of the Boston Patent Law Association. Dr. Vrablik served as a Faculty 1000 associate faculty member from 2011-2014. She has a passion for science outreach for students at all levels, from elementary through graduate school. Some notable science outreach efforts include serving as a NSF STEM teaching fellow at Freedom High School in Bethlehem, PA, as an organizer and presenter at science outreach events, such as the Exploration Day event at Penn State University, and as a judge for numerous science fairs / research exhibitions. Dr. Vrablik currently volunteers as a docent with Boston by Foot, leading the Boston by Little Feet tour, and volunteers and serves on the Board of the Friday Night Supper Program.