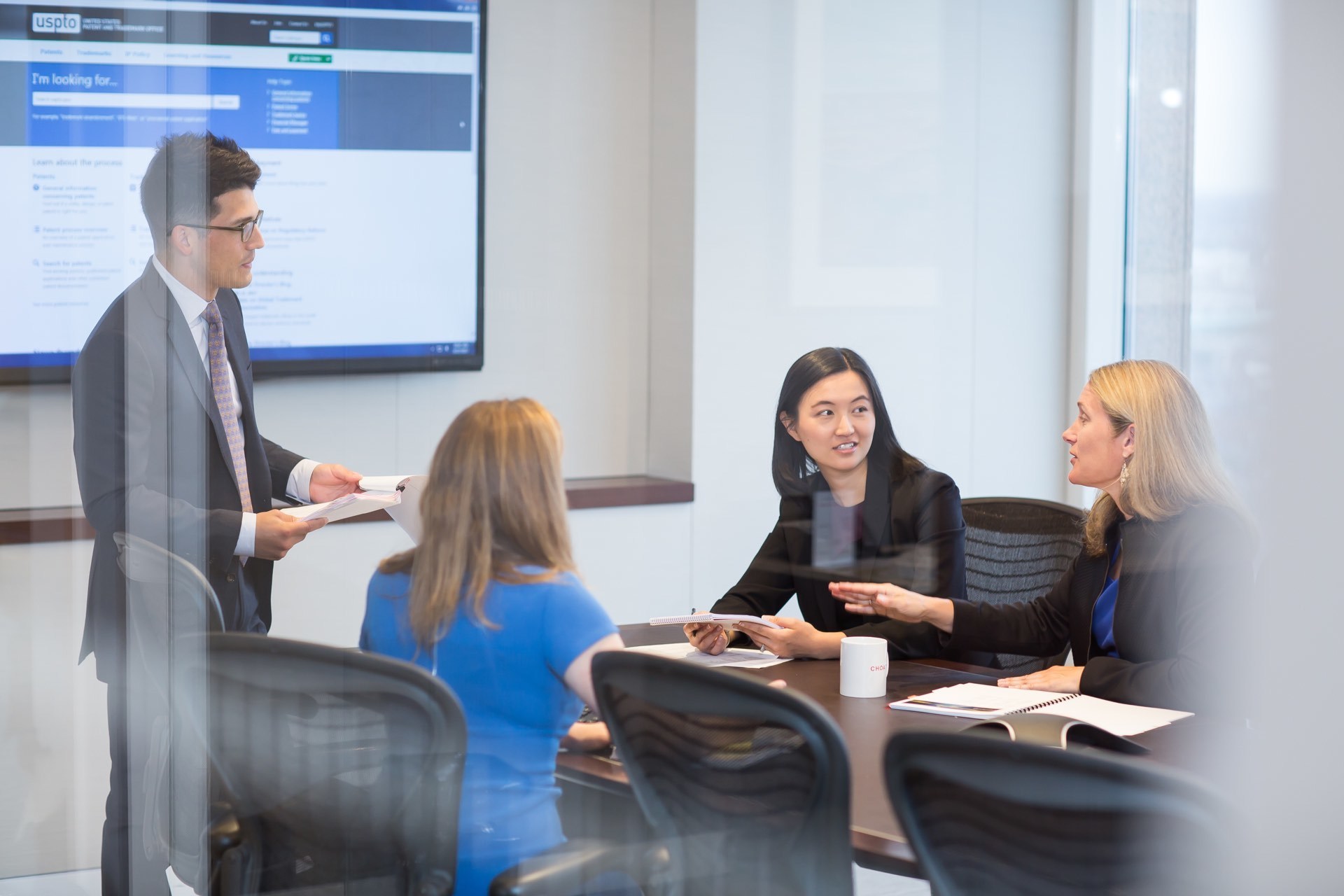 Diversity and Inclusion, Pro Bono Work and Community Service
Built by our commitment to people and to the communities which we serve and in which we live.
Diversity and inclusion have always been part of our core values - it's who we are.
We strive to uphold our core values in everything we do. Those core values include diversity and inclusion, pro bono legal service and community service.
Year after year, a top priority for the firm is creating an environment where our clients and talent come first. It will always be core to Choate's mission to foster a culture where client service, deep collaboration and inclusivity combine to provide a place where everyone is valued and respected. We recognize that a diversity of perspectives strengthens our Firm and benefits our clients.
Melissa Tearney
Co-Chair of Litigation Department and member of the Diversity and Inclusion Committee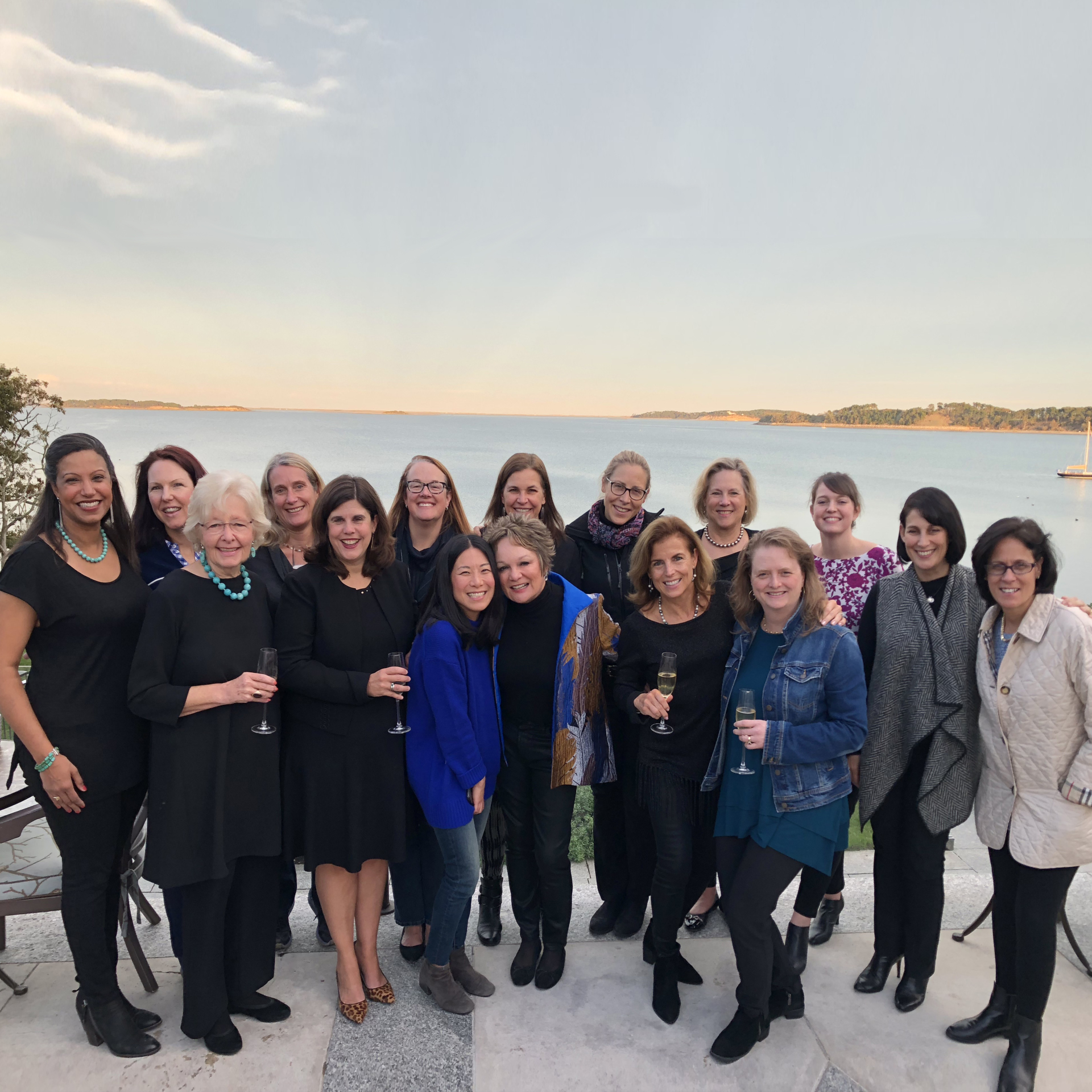 We know that as we continue to become more diverse and more inclusive:
we are even more reflective of the diversity of our clients and communities;
we provide even more effective, insightful, creative and valuable advice and service to our clients; and
we create a work environment which is even more interesting and stimulating for our teammates with whom we work.
Choate has a diverse and inclusive history:
1951 – Choate was one of the first major Boston law firms to hire a woman lawyer
1965 – Choate was one of the first major Boston law firms to elect a LGBTQ lawyer as equity partner
1971 – Choate was one of the first major Boston law firms to elect a woman lawyer (indeed two women lawyers in the same year) as equity partner
1972 – Choate was one of the first major Boston law firms to elect a woman to its Executive Committee
1986 – Choate was one of the founding member law firms of the Boston Lawyers Group, which is devoted to the advancement of attorneys of color in the Boston legal community
African-American lawyers have been integral to Choate since the early 1970's, with the first elected equity partner in the 1980's
Latino/a lawyers joined Choate in the 1980's, and Choate was among the first firms in Boston to elect a Latina equity partner
Asian-American lawyers also became a major presence at Choate beginning in the 1980's, with a number elected to the partnership since that time
Choate is a diverse and inclusive organization today:
37% of our lawyers are women, including 21% of our equity partners
5 of our 20 practice group leaders are women
3 members of our 11-member Executive Committee are women
3 members of our 8-member Equity Partner Compensation Committee are women
17% of our lawyers are people of color or are LGBTQ
During the past 10 years, 34% of our entering lawyers have been people of color
During the past 10 years, 54% of our entering lawyers have been women
In 2018, 7 of the 9 lawyers who were promoted from associate to counsel were women
For the 8th straight year, Choate received a perfect score on the Corporate Equality Index administered by the Human Rights Campaign Foundation
Choate was named Best Place to Work for LGBTQ Equality the Human Rights Commission
For the past 5 years, Choate has awarded generous Diversity Fellowships to 1st year LGBTQ and of color law students
Choate promotes thought leadership on diversity and inclusion:
In 1968, at the request of Robert F. Kennedy, one of our partners founded and served as the first Chairman of the Lawyers' Committee for Civil Rights and Economic Justice. That organization has played an active and pivotal role in combatting racial injustice throughout Massachusetts over the last 50 years. As described below, we are currently partnering with the Lawyers Committee on significant pro bono impact litigation.
Choate litigation partner, Macey Russell, is a nationally recognized author and lecturer on diversity and inclusion in the legal profession. He was named a Diversity Hero by Massachusetts Lawyers Weekly. He received the 2011 Burton Award from the Burton Foundation and the Library of Congress. In 2018, Macey received, from the Boston Bar Association, the Voice of Change Award as a "luminary leader in the legal community who has forged a new path and has played an extensive role in advancing diversity and inclusion within the profession."
Our efforts include working with clients on their own diversity and inclusion initiatives.
Choate Women's Network promotes mentoring and builds networks for women
The Choate Women's Network ("CWN") was organized to foster mentoring opportunities for women at the firm, at our clients, among our alumnae and in the community.
The CWN:
Promotes the development of networks, both external and internal;
Supplements ongoing programs offered at Choate to its professional women by our professional development team, practice groups, and individuals;
Celebrates and amplifies the achievements of Choate women both internally and externally (e.g., major deals and cases, community leadership, accolades/honors, articles); and
Provides an organized framework for encouraging, supporting, sponsoring and promoting Choate women and for the development of additional programs for our women's communities.
CWN recent programming includes: a series of professional, alumni and social events for women in the Life Sciences industry; social events and programs for mentoring across organizations with clients in the Financial Services industry; a private screening for the firm, our alumni and our clients of the documentary film about the life and career of Justice Ruth Bader Ginsburg, "RBG"; and, for all women in the firm's network, the Canvas for a Cause benefit for Artists for Humanity.
In addition to their leadership roles within the firm, Choate women lawyers, LGBTQ lawyers and lawyers of color have served in influential leadership positions in the profession and the community:
Past President of the Black Lawyers Association of Massachusetts
Past President of the Women's Bar Association of Massachusetts
Past presidents of the Massachusetts Association of Women Lawyers
Past President of the Asian American Lawyers Association of Massachusetts
Past President of the Massachusetts Association of Hispanic Attorneys
Past Chair of Massachusetts LGBTQ Bar Association
First woman to serve as President of the Boston Bar Association (and two more women Presidents since)
First woman to serve as President of the American College of Trial Lawyers
First woman to serve as Senior Fellow of the Yale Corporation
First African American to serve as Chair of the Massachusetts Judicial Nominating Commission
First African American to serve as Secretary of Environmental Affairs of Massachusetts
First African American to serve as Chair of the Massachusetts Water Resources Authority
First woman to serve as General Counsel of Harvard University
First woman to serve as General Counsel of Eastern Bank
Past Chair of Fenway Health, a leading Boston-based LGBTQ health provider and research institute
First Latina to serve as General Counsel of TJX Companies
First woman to serve as Chief Justice of the Massachusetts Supreme Judicial Court (and wrote the first decision legalizing same-sex marriage in the country)
First woman to serve as General Counsel of Partners Healthcare, the largest private employer and health care organization in Massachusetts
First woman to serve as General Counsel of Blue Cross Blue Shield of Massachusetts
First woman to serve as General Counsel to Harvard Pilgrim Healthcare
The Diversity and Inclusion Committees
Choate's Diversity and Inclusion Committee, Co-Chaired by our Managing Partners, is responsible for developing and monitoring diversity and inclusion programs and reporting to the Executive Committee with respect to the effectiveness of those initiatives.
The Diversity and Inclusion Committee, in coordination with our Human Resources and Professional Development departments, is focused on:
Providing encouragement and support to affinity groups organized around Choate's women, LGBTQ, and people of color communities;
Organizing Choate's diversity speaker series which creates an opportunity for the entire firm, and our clients, to meet and learn from national experts about diversity topics including, recently:

Jerry Kang, Vice Chancellor at UCLA, a leading expert on unconscious bias;
Joanna Barsh, senior partner at McKinsey, a leading expert on women in leadership;
Lindsey Pollak, renowned author and consultant, a leading expert on millennials and multigenerational workplaces; and
Maura Cullen, a leading expert on diversity leadership and training.

Organizing small-format diversity dine around dinners designed to foster communication and engagement across the firm concerning sensitive diversity and inclusion topics;
Coordinating with Choate's Professional Development and Legal Recruiting Teams to promote the recruitment, retention, development, mentoring and promotion of diverse professionals;
Organizing periodic social gatherings and dinners for women lawyer, lawyers of color and LGBTQ lawyer affinity groups;
Coordinating with the Choate summer associate program to ensure that the program promotes the firm's diversity and inclusion goals and celebrates the diversity of the firm through our annual Diversity Fellowship, Diversity Dinner and Lawyers of Color Events;
Providing support to numerous diversity organization in the profession, the law schools and the community, including:

The Women's Bar Association;
The Women's Bar Foundation (one of our partners is currently President);
The Black Lawyers Bar Association of Massachusetts;
The LGBTQ Bar Association of Massachusetts;
The Massachusetts Association of Hispanic Lawyers; and
The Asian-American Lawyers Association of Massachusetts;

Supporting an annual getaway networking weekend on Martha's Vineyard for people of color and LGBTQ lawyers and alumni;
Coordinating with Choate's Pro Bono Committee to ensure that Choate's pro bono activities advance our goals of diversity and inclusion;
Coordinating diversity and inclusion programs with the firm's clients and alumni, including the Choate Women's Network Initiative, to mentor and retain a strong network of women lawyers, such as the Canvas for a Cause, Women in Life Sciences Series and the F&R Uncork and Unwind events;
Organizing and supporting the Non-Legal Staff Diversity and Inclusion Committee, which is charged with promoting inclusion across the firm; and
Providing periodic sensitivity training sessions across the firm.
Firm leadership at Choate truly embraces improving D&I, working to understand both the broad concepts and granular day-to-day challenges. They demonstrate the firm's commitment in the time and firm resources they put into this priority, but even more in the support they have given me to invest my time to furthering the diversity discussion nationally.
Macey Russell
Choate Litigation Partner, member of the Diversity Committee and nationally-recognized author and speaker.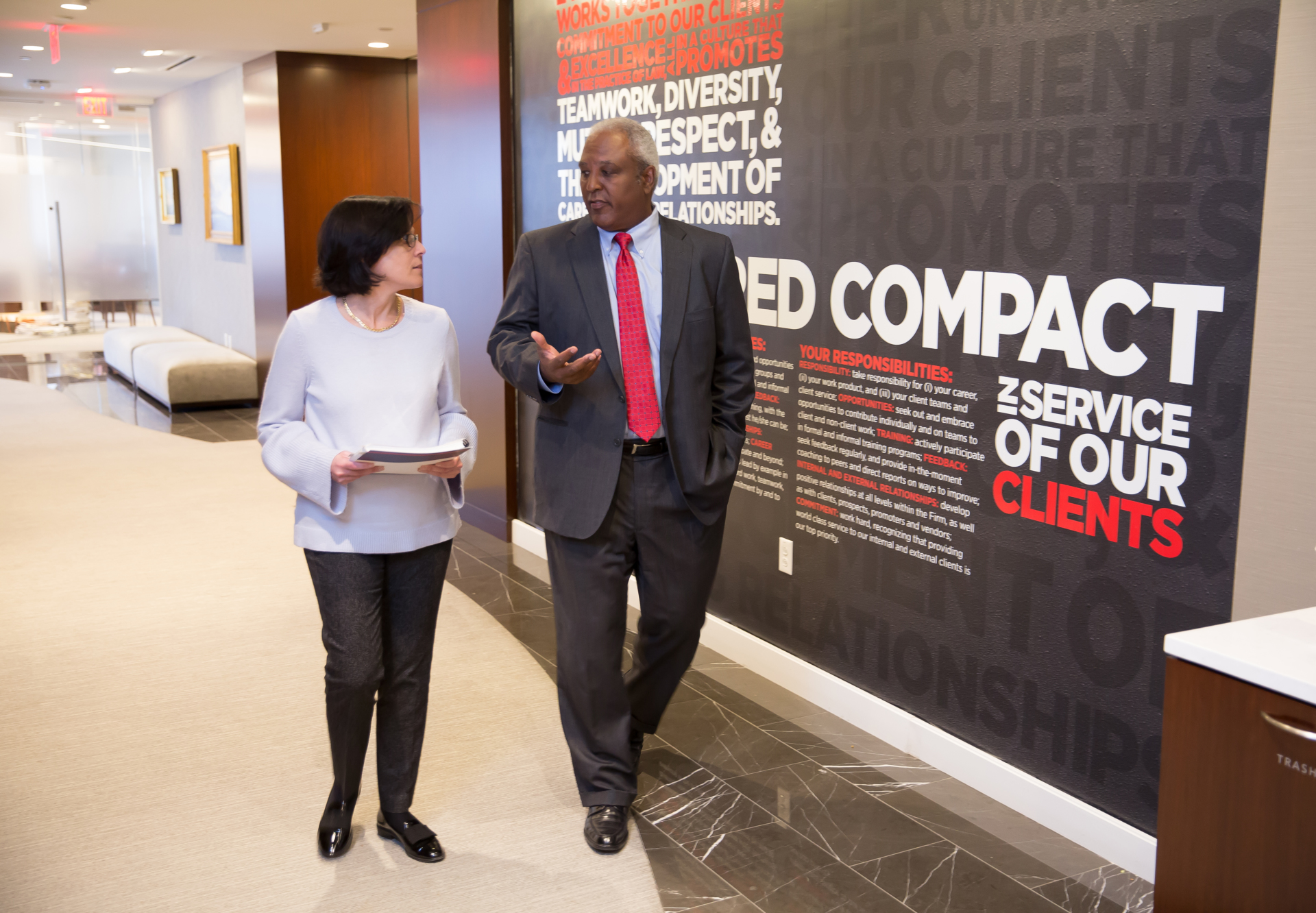 Pro Bono Legal Service is also a core commitment
Giving back is critical to our mission of fostering outstanding citizenship, and Choate is committed to playing an active and generous role in our community through our robust pro bono legal services program. Through our pro bono legal work, we provide the resources which enable individuals to seek justice and opportunity, provide nonprofit organizations the tools they need to effect change, and support the economic development of underserved communities. Pro bono is built into our lawyers' careers from the day they join us as summer associates, and remains an important part of their lives as associates and then as partners. We consider pro bono legal work to be both a privilege and individual and institutional responsibilities. Choate is proud to donate thousands of hours to pro bono legal services every year.
The Pro Bono Committee
Choate's Pro Bono Committee is designed to ensure that there are a range of opportunities for meaningful and impactful pro bono work across the organization.
Through partnerships with organizations in the community, Choate lawyers advance access to justice for individuals and nonprofit organizations while building their legal skills through pro bono client service. Those organizations include: the Lawyers' Committee for Civil Rights and Economic Justice; the Political Asylum/Immigration Representation Project; the Committee for Public Counsel Services; the Center for Women in Enterprise and the Lawyers Clearinghouse.
Lawyers' Committee for Civil Rights and Economic Justice ("Lawyers' Committee")
Choate works, on a pro bono basis, with the Lawyers' Committee on significant impact litigation and amicus projects with the goal of advancing important civil rights, economic and social justice issues such as immigration, voting rights, school admission, law enforcement and hate crimes. In addition, through the Lawyers' Committee, Choate attorneys advise underrepresented for-profit companies, owned primarily by women and people of color, on entity formation, general business considerations, organizational goals, governance issues, immigration issues and ways to protect their business from legal risks.
By way of example, a Choate team has been working closely with the Lawyers' Committee on significant litigation arising out of the termination of Temporary Protected Status ("TPS") for immigrants from El Salvador, Haiti, and Honduras. TPS is a statutory protection against deportation for foreign nationals residing in the United States who are unable to return to their home countries due to armed conflict, natural disasters, or other circumstances that would prevent their safe return. TPS was enacted in 1990 with the express humanitarian purpose of protecting foreign nationals in the U.S. who would not otherwise qualify for asylum.
There are more than 400,000 TPS beneficiaries from El Salvador, Haiti and Honduras currently residing in the U.S., along with more than 270,000 U.S. citizen children of these TPS beneficiaries. The TPS program applies only to those immigrants currently residing in the U.S. when the designations are first made, such that most beneficiaries have been living and working in the U.S. for roughly twenty years. The Administration has terminated TPS for those three countries, and others. With assistance from Choate, the Lawyers' Committee filed suit, in federal court in Boston, in February 2018 on behalf of TPS beneficiaries and local aid organizations challenging these TPS terminations.
Political Asylum/Immigration Representation Project ("PAIR")
Choate participates in PAIR's Pro Bono Asylum Program, which represents, on a pro bono basis, indigent asylum-seekers who have fled their countries after suffering unimaginable harms. The goal of the Program is to secure safety for clients who have exercised freedoms that we may take for granted: the right to express opinions; freedom of speech and assembly; or the right to practice their religion.
By way of example, through PAIR, Choate assumed the pro bono representation of a political asylum seeker from Uganda who had suffered past prosecution and had a well-founded fear of prosecution on account of her membership in a particular social group. The client also suffered physical and emotional abusive treatment by her husband, who had strong ties to authorities in Uganda. While temporarily in the United States on a family visit, Choate's client fled from her husband and sought asylum. After five years, Choate and PAIR were able to secure asylum for their client, enabling her to remain in this country where she now works as a nurse, is engaged in her church and has a path to citizenship.
Committee for Public Counsel Service ("CPCS")
Choate participates in the Youth Advocacy Division ("YAD") of CPCS and the EdLaw Project (a partnership between the YAD, the Children & Family Division of CPCS, and the Children's Law Center of Massachusetts) working with students and their families to ensure that students with special needs are receiving the services to which they are entitled, and that students facing disciplinary measures receive due process in their proceedings. Choate provides pro bono education advocacy for needy students across a range of circumstances, including some who also have pending criminal cases and some who do not have pending criminal cases but whose families are involved with the child welfare system.
Center for Women in Enterprise ("CWE")
Choate participates in CWE by providing pro bono legal services to women entrepreneurs and staffing clinic-style office hours at which are women owned businesses seek assistance regarding formation and governance issues. Thereafter, Choate attorneys engage in more comprehensive and longer-term engagements with women business owners, advising on a range of more complex, later-stage business issues.
By way of example, through CWE, Choate is proud to have provided pro bono legal services to a female U.S. Air Force Veteran, to help her start a now popular local coffee shop in Boston. Choate helped address initial legal and organizational concerns and financing needs. The café is now launched and thriving.
Lawyers Clearinghouse
Choate participates in the Lawyers Clearinghouse which organizes legal clinics for indigent clients seeking pro bono legal advice and follow-up representation on a broad range of issues such as Social Security disability proceedings, landlord/tenant disputes, evictions, or subsidized housing appeals, other benefit appeals or overpayment issues, and CORI sealing. Through the Lawyers Clearinghouse, Choate attorneys also advise nonprofit organizations on a pro bono basis on formation and governance issues, including internal controls and procedures, employment, tax or fundraising issues, and dispute resolution.
By way of example, Choate associates recently obtained a critical victory for a pro bono client in securing supplemental security income (SSI) benefits both going forward and retroactively for the past two years. The client met with Choate at a Lawyers Clearinghouse clinic after the Social Security Administration (SSA) denied his application for SSI benefits. The client has suffered from severe anemia, chronic kidney disease and other related physical impairments in recent years and struggles significantly with the day-to-day impact of his medical conditions. The firm represented the client in appealing the SSA's decision, including an adversarial hearing which resulted in a fully favorable decision, reversing the SSA's decision to deny the client benefits. The client will receive monthly SSI benefits on a going-forward basis, as well as back pay benefits dating to the time he initially became disabled. These benefits will provide critical support for the client's day-to-day needs as he struggles to manage his disability.
Community Service is a core commitment
Choate has been privileged to receive the invaluable support and opportunities provided to the firm by the communities in which we live and work. We don't take those privileges for granted. We are profoundly grateful and we are committed to giving back by actively supporting those communities in a variety of ways.
As one example of Choate's support for the community, throughout the year, the firm sends one associate to the Suffolk County District Attorney's Office to act as a Special ADA in the Boston Municipal Court for four months at a time. Choate Special ADAs carry a diverse criminal case load at the DA's Office and are responsible for covering arraignments, pre-trial, and trial sessions at the court. Choate Special ADAs provide pro bono legal service to Suffolk County by drafting and arguing motions and conducting trials on their various cases over the course of their time at the DA's Office, negotiating with defense counsel, working with victims and law enforcement representatives, preparing witnesses, and appearing before judges on a daily basis.
In addition to donating, annually, thousands of our hours for pro bono legal services, Choate and its partners also give back to our communities by, every year, providing significant financial support and thousands of hours of volunteer time to a wide spectrum of worthwhile community and charitable organizations.
To view the complete list, click here.