Please read this disclaimer carefully, by making use of this site, you indicate your acceptance of the terms stated below. If you do not accept these terms, then do not use this site.
This internet site (the "Site") and the materials that it contains have been prepared by Choate, Hall & Stewart LLP (the "Firm") for informational purposes only. They do not constitute legal advice. Your use of this Site, including for the purpose of communicating electronically with our attorneys, does not create an attorney/client relationship between you and the Firm. Although efforts are made to keep the contents of the site current, it may not reflect the latest legal developments. The application of specific laws and legal principles will vary according to location and individual circumstances. Anyone viewing information contained in this Site should not act upon it without seeking professional counsel from an attorney authorized to practice in his or her jurisdiction.
The Firm does not solicit anyone to seek representation based upon viewing this Site.
The Firm may alter, suspend, or discontinue this Site at any time for any reason, without notice or cost. The Site may become unavailable due to maintenance or malfunction of computer equipment or other reasons.
Access to the Site
By using this Site, you agree to waive any claim you might otherwise have against the Firm that arises from your use of this Site or information provided by this Site. In addition, by using this Site you agree to indemnify, hold harmless and defend the Firm from any claims, damages, losses, liabilities and all costs and expenses of defense, including but not limited to, attorneys' fees, resulting directly or indirectly from a claim by a third party that alleges injury, damage or harm in whole or in part arising from the provision by you of information from, or claimed to be from, this Site, or that in any way arises from your use of this Site or information provided by this Site in violation of these terms.
Copyright & Trademarks
This Site and all the information it contains, or may in the future contain, including, but not limited to, articles, memoranda, bulletins, reports, press releases, opinions, text, directories, guides, photographs, illustrations, trademarks, trade names, service marks and logos (collectively, the "Content"), is the property of the Firm, its partners, members, and employees, and is protected from unauthorized copying and dissemination by U.S. Copyright law, trademark law, international conventions, and other intellectual property laws. Certain of the trademarks and logos displayed on the Site are owned by third parties. Nothing contained on this Site should be construed as granting, by implication, estoppel, or otherwise, any license or right to use this Site or any Content displayed on this Site, through the use of framing or otherwise, without the prior written permission of the Firm or such third party that may own the trademark or copyright of material displayed on this Site.
Subject to your full compliance with these terms, the Firm authorizes you to view the Content, make a single copy of it, and print that copy, but only for your own lawful, personal, noncommercial use, provided that you maintain all copyright, trademark and other intellectual property notices contained in such Content, and provided that the Content, or any part thereof, is not modified.
Disclaimer of Warranties
To the fullest extent permissible pursuant to applicable law, the Firm disclaims all warranties, express or implied, including, but not limited to, implied warranties of merchantability and fitness for a particular purpose. Specifically, but without limitation, the Firm does not warrant that: the information on this Site is correct, accurate or reliable; the functions contained on this Site will be uninterrupted or error-free; or defects will be corrected, or that this Site or the server that makes it available are free of viruses or other harmful components.
Response to Online Requests
From time to time, Choate, Hall & Stewart may offer to provide information or materials via email or otherwise to interested persons. Choate, Hall & Stewart reserves the right, in its absolute discretion, to reject any requests for such information or materials, or to discontinue the provision of such information or materials to any person, for any reason whatsoever.
Links to Other Sites
This Site may contain links to non-Firm sites. These links are provided to you only as a convenience. Such linked sites are not under the control of the Firm and the Firm is not responsible for the contents of any linked site, or any link contained in a linked site. The inclusion of any link does not imply endorsement by the Firm of the site, and the Firm shall have no responsibility for information that is referenced by or linked to this site.
Electronic Correspondence to the Firm and Affiliated Servers
Opportunities to send email or to subscribe to email distribution lists through the Site are provided solely to let individuals send comments and communications to use and to request information from us, and they do not give rise to an attorney/client relationship. These messages are forwarded through the Site to the appropriate persons within the Firm so that they may respond to the questions or comments or provide the information requested, if they elect to do so, which is at their discretion. In the event that the Firm is requested to contact a visitor to this Site, contact information may also be used for purposes of making that communication. Any electronic communication between you and the Firm will not be privileged or confidential; may be disclosed to other persons; and may not be secure. Therefore, you should not send any email to the Firm that contains confidential or sensitive information. Further, all information submitted is the exclusive property of the Firm. The Firm is entitled to use any information submitted for any purpose, without restriction (except as stated in the Privacy Statement) or compensation to the person sending the submission. The user acknowledges the originality of any submission communicated to the Firm and accepts responsibility for its accuracy, appropriateness, and legality.
Enforcement of Terms and Conditions
These Terms are governed and interpreted pursuant to the laws of the Commonwealth of Massachusetts, United States of America, notwithstanding any principles of conflicts of law.
All disputes arising out of or relating to these Terms shall be finally resolved by arbitration conducted in the English language in Boston, Massachusetts, USA under the commercial arbitration rules of the American Arbitration Association. The parties shall bear equally the cost of the arbitration (except that the prevailing party shall be entitled to an award of reasonable attorneys' fees incurred in connection with the arbitration in such an amount as may be determined by the arbitrator). All decisions of the arbitrator shall be final and binding on both parties and enforceable in any court of competent jurisdiction. Notwithstanding this, application may be made to any court for a judicial acceptance of the award or order of enforcement. Notwithstanding the foregoing, the Firm shall be entitled to seek injunctive relief, security, or other equitable remedies from the United States District Court for the District of Massachusetts or any other court of competent jurisdiction. If any part of these terms is unlawful, void, or unenforceable, that part will be deemed severable and will not affect the validity and enforceability of the remaining provisions. The Firm may, at its sole discretion and without notice, revise these terms at any time by updating this posting.
Sending
Please do not send any confidential information via e-mail through this website. Sending an e-mail to Choate does not give rise to an attorney-client relationship, and will not be deemed to disqualify Choate from undertaking any engagement for a current or future client. Before any attorney-client engagement may be formed, Choate will need to check for possible conflicts of interest, you will need to consider whether you wish to retain Choate as counsel, and we will need to consider whether we wish to accept the potential engagement. In the meantime, Choate reserves the right to represent parties with interests adverse to you.
Privacy Policy
Choate PRIVACY POLICY
Choate, Hall & Stewart LLP, is a firm of lawyers, with its sole office in Boston, Massachusetts. We are subject to Rule 1.6 of the Massachusetts Rules of Professional Conduct, which provides that we shall not reveal confidential information relating to the representation of a client. An affiliate of the law firm, Choate Investment Advisors, is a registered investment advisor. Clients of our Wealth Management Group receive services from both Choate, Hall & Stewart LLP and Choate Investment Advisors. This Privacy Notice applies to both entities.
This Choate Privacy Policy ("Privacy Policy") explains how Choate, Hall & Stewart LLP, and Choate Investment Advisors (collectively "Choate", "we", "us", "our") collects, uses, shares, and protects certain personal information obtained from our clients and from visitors to our main websites [www.choate.com and www.choateia.com] and the Choate WMG portal [www.choateweb.com] (the "Sites"), in connection with the legal, investment advisory, and other services we offer (collectively, the "Services"). By visiting the Sites or using the Services, you consent to our collection, use, and disclosure of your information under the terms of this Privacy Policy.
Choate may obtain "Nonpublic Personal Information," which is information about you that we obtain and use in connection with providing the Services.
Amendments to this Privacy Policy will be posted to the Sites and/or in connection with the Services and be effective when posted. Your continued use of the Services following the posting of any amendment to the Privacy Policy shall constitute your acceptance of such amendments.
1. What Nonpublic Personal Information does Choate collect?
The type of Nonpublic Personal Information we collect depends on the Services that Choate provides for you. The Nonpublic Personal Information may include, but is not limited to, the following information of yours and/or of a family member:
Contact information, such as name, email address, and mailing address;
Financial information, such as income;
Account information, such as banking and debit cards numbers, investment account numbers, and associated account balances and usage;
Transaction information, such as brokerage and investment transactions;
Identification and demographics information, such as passport number, driver's license or other state identification numbers, lifestyle information, social security number, and gender; and
Device identifiers, such as IP address.
2. How does Choate collect Nonpublic Personal Information?
We may collect your Nonpublic Personal Information directly from you, via email, mail, telephone, the Sites, in person meetings, and cookies (see our cookies policy, below.) We also may receive Nonpublic Personal Information from others, such as banks and other financial institutions, and from transactions with Choate or others.
3. How does Choate Use Nonpublic Personal Information?
Choate uses the Nonpublic Personal Information it collects in a variety of ways depending on the nature of our relationship with you and the Services we provide. We may use your Nonpublic Personal Information for our everyday business purposes of providing Services, including, but not limited to: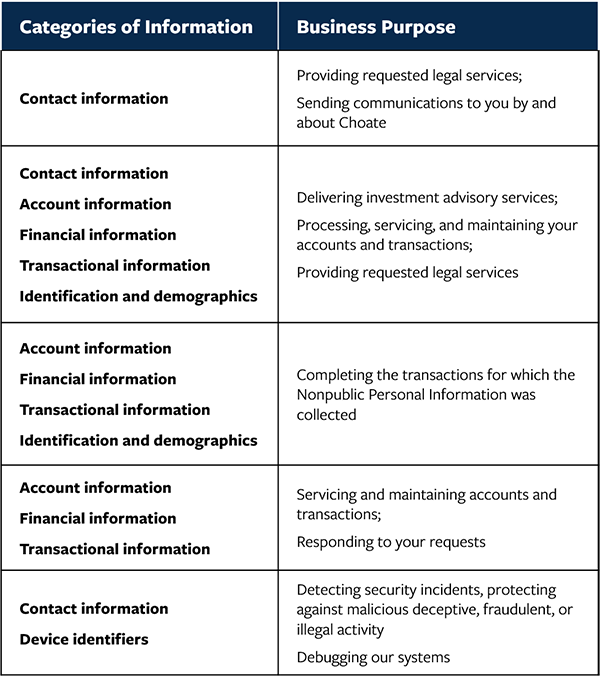 Choate does not sell, disclose, or transfer any Nonpublic Personal Information to third parties, except to third party service providers who are necessary for us to perform the Services, such as stock brokers, cloud hosting services providers, and as permitted or required by applicable law, rules or regulations, or pursuant to the terms of this Privacy Policy. We do not have any affiliates or non-affiliated companies (i.e., companies not related by common ownership or control), except as described herein. We do not have any joint marketing partners.
In the event that you decide to close an account or otherwise become an inactive customer, Choate, will continue to follow this Privacy Policy with respect to your Nonpublic Personal Information.
4. Your right to limit sharing.
Federal law gives you the right to limit: (i) our affiliates from sharing information about your creditworthiness; (ii) our affiliates from using your Nonpublic Personal Information to market to you; and (iii) our sharing your Nonpublic Personal Information with non-affiliates to market to you. State laws may give you additional rights to limit sharing. Please direct any questions regarding your rights to limit sharing to: privacy@choate.com.
5. Cookies
Our Sites use cookies, messages given to a Web browser by a Web server. The browser then stores the cookies in a text file. Our Sites use two types of cookies:
Session cookies, which are temporary cookies that are deleted automatically whenever you close all open Web browser windows. Session cookies are used to ensure that you are recognized when you move from page to page within the Sites and that any information you have entered is remembered. Session Cookies do not collect information from your computer. They typically will store information in the form of a session identification that does not personally identify you.
Persistent cookies, which remain permanently on the cookie file of your computer. These persistent cookies contain the user ID used to access the Sites, together with encrypted identification values associated with the user ID in conjunction with the particular device (e.g. the PC, mobile device or other computer from which you accessed the Sites). These persistent cookies are used to provide enhanced security measures, personalize your experience on the Sites, monitor overall Site performance, enable multifactor authentication, recognize the preferences of returning users, and provide overall Site usage reporting. Cookies placed on your devices do not contain any personal information, such as an email address or name.
Although your browser may permit you to reject cookies, cookies are required to login and navigate within our Sites. If you choose to disallow cookies you will be required to respond to challenge questions each time you log on to our Sites.
6. How we protect your Nonpublic Personal Information.
We protect your account information from unauthorized access, to the best of our ability, which is why you must enter a unique user name and password as well as multi-factor authentication when you access the portal affiliated with Choate Investment Advisors (the "Choate WMG Portal"). Your password should never be shared with anyone.
None of our other clients can access your Nonpublic Personal Information, and only a restricted set of our employees can access your Nonpublic Personal Information in order to provide our Services to you. When you access password protected portions of our Choate WMG Portal using a web browser, Secure Sockets Layer (SSL) technology is used to protect your communications through server authentication and data encryption. We upgrade and maintain our technology on an ongoing basis.
Although the Sites may link to some external sites, we are not responsible for the privacy practices of those websites. You may wish to review the privacy policy of those third party external sites.
7. Minors.
We only collect, use, or retain Nonpublic Personal Information from or about individuals under the age of 18 with prior written parental consent. If a parent or guardian believes that Choate has in its database the Nonpublic Personal Information of a child under the age of 18 for which consent was not provided, please contact us immediately at privacy@choate.com, and we will use our best efforts to promptly remove such information from our records. Minors under the age of 18 must provide us with written permission of their parent(s) or legal guardian(s) before accessing the Choate WMG Portal or using our Services.
8. California Consumers Only
The information practices described above comply with federal law. California laws place additional limits on sharing Nonpublic Personal Information about their residents and consumers. If you are a California consumer, Choate will automatically limit the disclosure of Nonpublic Personal Information to affiliated and nonaffiliated third parties as permitted or required by applicable law or regulation.
California consumers have additional rights under the California Consumer Privacy Act ("CCPA"), with respect to Nonpublic Personal Information that is not covered under a federal law ("Personal Information"). If you are a California consumer, this section summarizes your rights under the CCPA to the extent it applies, how you may exercise them, and what Choate will do in response.
As a law firm, much of the data we collect and process is not subject to CCPA consumer rights. Without limiting the foregoing:
Consistent with the CCPA, job applicants, current and former employees, and independent contractors, other than prospective, current, and former partners of Choate ("

Personnel

"), and subjects of certain business-to-business communications acting solely in their capacity as representatives of another business are not considered "consumers" for purposes of this California privacy notice or the rights described herein.
Personal Information subject to an evidentiary privilege, such as the attorney-client privilege and/or attorney work product protection, is not subject to consumer rights to know (consumer-specific information and copies), delete, or opt-out under the CCPA as described below; however, we do include this Personal Information in our description of Personal Information, below.
Publicly available information (as defined by the CCPA) is not Personal Information under the CCPA and not included in the disclosures described below and is not data to which consumers have rights under the CCPA.
California consumers have the right to request:
Disclosure of categories of Personal Information collected by Choate in the previous twelve months;
Disclosure of categories of Personal Information sold in the previous twelve months;
Disclosure of categories of Personal Information disclosed for a business purpose in the previous twelve months; and
Deletion of the Personal Information.
We will require a verifiable request from the California consumer before we comply with a CCPA request. You may use an authorized agent to submit a right to know request or a request to delete. To use and authorized agent, you must provide the agent with written authorization. In addition, we may require that you verify your own identity, and we may deny a request from an agent that does not submit proof that they have been authorized by you to act on your behalf. Such requirements will not apply where you provided the authorized agent with a power of attorney pursuant to Cal. Prob. Code Section 4000 to 4465.
We are not required to delete Personal Information if it is necessary for our business to maintain the personal information to:
Complete the transaction for which the Personal Information was collected;
Detect security incidents, protect against malicious, deceptive, fraudulent, or illegal activity, or prosecute those responsible for the activity;
Debug;
Comply with applicable federal or state law;
Carry out solely internal uses that are aligned with your expectations based on your relationship with Choate; or
Use internally the Personal Information in a lawful manner.
Please also note that we are not obligated to comply with consumer requests to the extent that doing so would infringe on our, or any other person's or party's, rights, or conflict with applicable law.
We may disclose your Personal Information for the following purposes: (i) if you direct us to share Personal Information; (ii) to comply with your requests; and (iii) as otherwise required or permitted by applicable law, and this may override your rights under the CCPA or other applicable privacy laws.
Choate may not discriminate against you for exercising any of the rights cited above. In the preceding 12 months, Choate has collected the following categories of Personal Information about California consumers from the following sources and for the following purposes. The CCPA requires that Choate reference specific categories of Personal Information specified in the CCPA. Choate may collect only certain pieces of Personal Information described in a given category and may not collect certain pieces of Personal Information described in each category.
In the preceding 12 months, Choate has not sold any Personal Information about California consumers.
In the preceding 12 months, Choate has disclosed for a business purpose the following categories of Personal Information about California consumers: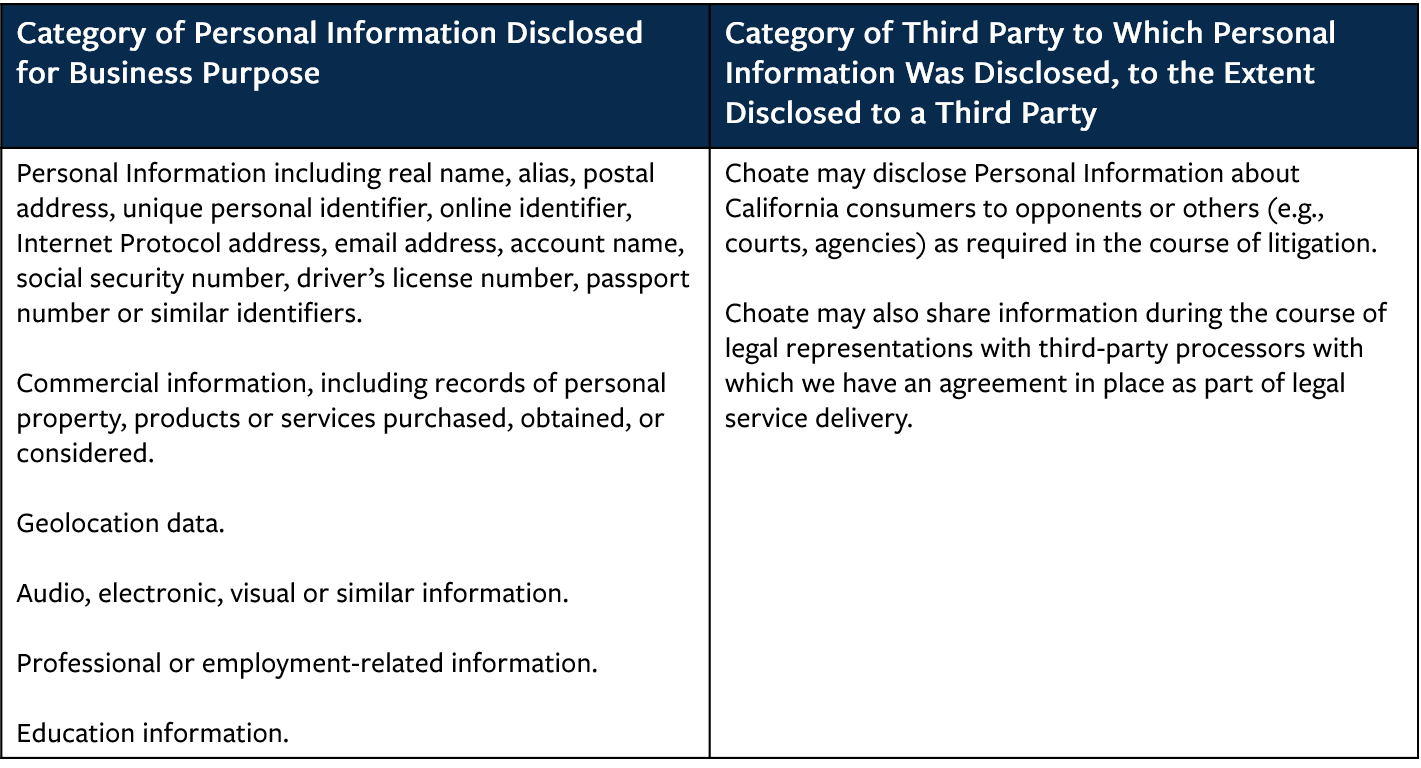 Please direct any questions regarding our Privacy Policy, including California consumer requests to:
Email address: privacy@choate.com; or
Toll free number: 1-833-590-0125
You may also send an email via the Contact page provided on the Sites.
Choate, Hall & Stewart LLC
Two International Place
Boston, MA 02110
LAST UPDATED: May 16, 2022