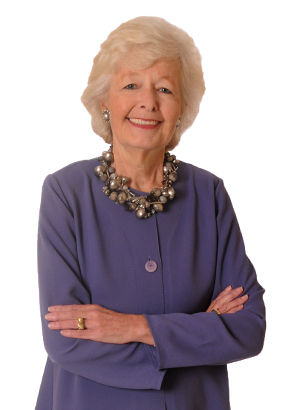 Margaret H. Marshall To Be Inducted into the Greater Boston Chamber Academy of Distinguished Bostonians
Choate Press Release
| May 2, 2016
Choate today announced that Margaret H. Marshall, Senior Counsel at the firm and former Chief Justice of the Massachusetts Supreme Judicial Court, will be inducted into the Academy of Distinguished Bostonians by the Greater Boston Chamber of Commerce. Marshall will be honored at the Chamber's annual meeting on May 10, 2016 to recognize her "contributions to some of the most important issues impacting Greater Boston, the Commonwealth, and the world."
Marshall will be honored with Gururaj "Desh" Deshpande, Ph.D., President and Chairman of Sparta Group LLC, and Joe Grimaldi, Chairman Emeritus of MullenLowe US. Over the past 33 years, nearly 100 Boston luminaries have been inducted into the Academy of Distinguished Bostonians including Governor Deval Patrick, Senator Edward M. Kennedy, Mayor Thomas Menino, Julia Child, and Robert and Myra Kraft, to name a few.
"Each of this year's honorees came to the United States from different parts of the globe and changed the world from right here in Boston," said James E. Rooney, President and CEO of the Chamber. "Not only did they make, and continue to make, a lasting positive impact on our business community, but they have all used their roles as exemplary leaders to make our region, and more importantly our world, a better place for all."
Marshall was the first female Chief Justice of the Massachusetts Supreme Judicial Court and the first female General Counsel of Harvard University. During her 14 years on the Massachusetts Supreme Judicial Court – including 11 years as Chief Justice – she wrote more than 300 opinions. She is best known for the 2003 decision in Goodridge v. Department of Public Health, which declared that the Massachusetts Constitution prohibits the state from denying same-sex couples access to civil marriage. The ruling made Massachusetts the first state to legalize gay marriage. In her opinion, Marshall took a strong stance against all forms of discrimination, stating that the "Massachusetts Constitution affirms the dignity and equality of all individuals. It forbids the creation of second-class citizens." The decision was widely cited in the US Supreme Court's 2015 decision that made same-sex marriage a Constitutional right nationwide.
At Choate, Marshall is a member of the firm's Complex Trial and Appellate Litigation Group, where she uses her significant expertise in trial preparation, mock trials and moot appellate arguments to help clients strategize on their most significant opportunities and challenges, and prepare for litigation success in the courtroom. She is also actively involved in the firm's extensive community outreach, pro bono, diversity and recruiting programs; mentoring junior lawyers; and providing senior level counsel to clients on special projects.
Following her graduation from Yale Law School, Marshall practiced complex litigation for 16 years in Boston and was a partner at Choate. In 1992, she became Vice President and General Counsel of Harvard University. In 1996, she was appointed as an Associate Justice of the Supreme Judicial Court and was named Chief Justice in September 1999, a role she held until December 2010.
Marshall served as president of the Boston Bar Association from 1991 to 1992, president of the United States Conference of Chief Justices from 2008 to 2009, and chair of the Board of the National Center for State Courts. Marshall is a member of the Council of the American Law Institute, and a fellow of the American Academy of Arts and Sciences. She has served as a Fellow (trustee) of Yale Corporation from 2004 to 2010 and now serves as the Senior Fellow, the first woman to hold that position. She also currently serves as a Senior Research Fellow and lecturer at Harvard Law School. She has received many honorary degrees and other professional awards.
Born and raised in South Africa, Marshall received her undergraduate degree in 1966 from the University of the Witwatersrand in Johannesburg. She served as president of the National Union of South African Students, a leading anti-apartheid organization. She moved to Boston in 1966 to attend Harvard University, where she received her master's degree in education in 1969. Marshall received her JD from Yale Law School in 1976.