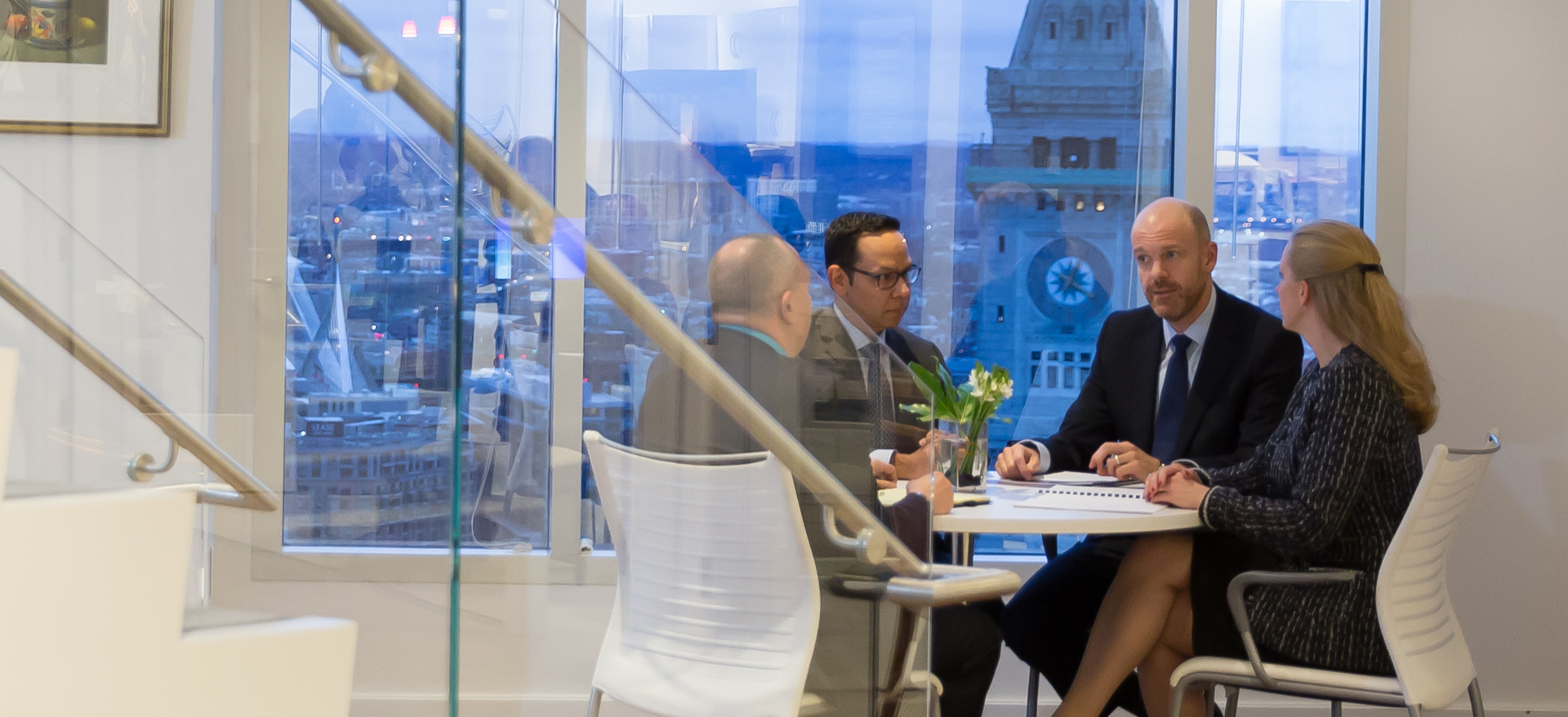 Life Sciences & Technology Companies
Built to support forward-thinking companies through every phase of growth.
We share our clients' passion for innovation. In disruptive or lifesaving technologies. In ground breaking science. In transformative business models.
The challenges facing today's companies, from concept to commercialization, are greater than ever. Our interdisciplinary Life Sciences and Technology teams help solve these problems by working collaboratively across practice areas, with a team of patent, corporate, healthcare and litigation lawyers, a very deep bench of scientists with PhDs and other advanced degrees from leading academic institutions, and former patent strategists from some of the world's most recognized companies who are experts in major scientific or technical fields. This approach allows us to provide counsel that is both strategic and practical, always focused on achieving our clients' business goals during each phase of development.
Biotech, pharma, and medical device companies, public and private technology companies at all stages of growth, and their venture capital, private equity and public market financing partners choose Choate as a partner to help them turn their most promising and disruptive innovations into successful businesses.
Choate has been trusted for decades to serve leading pharmaceutical and biotech companies such as Alnylam, Biogen, Celgene, Editas, Gilead, Ginkgo Bioworks, Momenta, Shire and WAVE, as well as entrepreneurial life sciences investors like Bain Capital Life Sciences, Deerfield Capital, Flagship Pioneering and Third Rock Ventures.
At every stage of the corporate life-cycle from start-up to maturity, we collaborate with our clients to provide strategic counseling that protects core intellectual property assets, navigates key capital inflection points and guides transformative transactions.
Company Formation – We are committed to working with promising start-up life sciences companies. Whether you are an early stage company, an academic looking to spin a promising technology out from a university or other institution or an entrepreneur seeking to develop and commercialize your own new insights, we work with founders and management teams to provide the support, knowledge and guidance necessary to help your company achieve its potential.
IP Strategies - In the life sciences marketplace today, intellectual property can define strategic opportunity or expose a company to considerable risk. Our deep understanding of the underlying science and the patent landscape specific to each discipline makes us a valued advisor for our clients. From crafting IP portfolio strategies in support of our clients' business goals, to assessing competitive landscapes, Choate works closely with clients to develop aggressive patent strategies and provide sophisticated business-focused advice that help maximize our clients' commercial success.
IP Litigation - Enforcing and defending IP right rights is a central driver in the life sciences industry. In strategic patent litigation, including Hatch-Waxman litigation, post-grant challenges, trade secret disputes and license and collaboration disputes, clients trust Choate to defend their most critical IP assets. Our IP and IP litigation teams have a uniquely collaborative approach that allows us to offer our clients "the best of both worlds" – prosecution informed and guided by effective dispute strategy and management of contentious proceedings with a deep and technology-sophisticated team that understands both your business and the nuances of life in front of the Patent and Trademark Office.
Blue Chip Investors - Our representation and access to some of the most influential life science-focused venture capital and private equity investors provides clients with a combination of experienced legal guidance and knowledge of potential sources of funding. Our expertise in both worlds provides us with the opportunity to help align clients with a potential partner.
Healthcare Regulatory Advice - Our healthcare and government enforcement and compliance teams provide regulatory advice and training to numerous life sciences, pharmaceutical and medical device companies on a broad range of matters ranging from off-label marketing concerns to data privacy and security to interactions with charitable patient assistance programs. We also counsel numerous academic medical centers and community hospitals on matters related to clinical research, scientific misconduct, Medicare billing and refund requirements, and general regulatory concerns.
Compliance and Investigations - Complex state and federal regulations can affect day-to-day operations for life sciences companies. Our team works closely with clients on a broad range of compliance matters. We specialize in pre-commercial companies as they look ahead at clinical trials and more mature companies with investigations, prosecutions and civil litigation regarding pharmaceutical sales and marketing practices, regulatory violations and anti-kickback claims.
Licensing and Strategic Transactions - When it's time to grow the company, or pursue a transformative collaboration or seek an exit transaction, Choate is a top choice. Whether through an acquisition, joint venture or collaboration, structured license arrangements, IPO, or recapitalization or return investor capital, we help clients craft, negotiate and execute agreements and transactions that enhance and reflect the value they have created.
Choate has a nationally-recognized practice representing technology and other high-growth companies, such as Cogito, Locus Robotics and ThreatStack as well as the venture, private equity, strategic partners and other firms that invest in them, like Great Hill Partners and Summit Partners. Our lawyers have counseled many hundreds of companies, representing clients in a wide range of industries with footprints across the US and globally.
Our work spans the key issues that are important to tech companies at every stage of their development: from start-up, to commercialization, to going public, to market leadership, to liquidity events. Of particular note is our preeminent cross-border practice representing non-US companies and investment firms in connection with their US activities, including acquisitions, financings, licenses, IP and strategic partnerships. In addition to our broad experience representing high-growth tech companies, we have particular expertise in the following disciplines.
Company Formation – Our work traditionally begins prior to company formation and advances through the evolution of an emerging company's life. Our team has strong technical, legal and industry knowledge crucial to guiding early-stage companies during their most critical inflection points.
IP Strategies – New technologies pose numerous challenges and opportunities for rights holders. We are regularly involved in high-profile matters involving the complex intersection of new technological developments and intellectual property law. Our lawyers also provide extensive counseling to rights holders regarding the implications of new technologies.
Blue Chip Investors – We are annually ranked as one of the most active law firms involved with private equity and venture capital transactions. As a result, private investment funds regularly turn to us to assist them in their investment activities, including in acquiring, financing, restructuring and disposing of portfolio companies in the technology sector.
Security and Data Privacy – We have assisted clients, from a wide variety of industries within technology, both in implementing programs to help prevent data breaches and in preparing and handling response notifications to federal and state agencies, business partners and customers in the event a breach has occurred. Members of our team have assisted clients across industries to address numerous state and federal notification requirements based on the inadvertent, but unauthorized release of financial or personal information of customers and other constituencies.
M&A Transactions – Recognizing that no two transactions are alike, we are highly regarded for our experience, judgment and efficiency in strategic transactions for high growth technology companies. We regularly represent acquirers, targets, investment bankers, commercial banks, and sources of finance – including private equity and venture capital funds - in public and private mergers and acquisitions across sectors and geographic regions. Our team has a deep and practical understanding of "what' s market" having represented diverse US and foreign clients.
Recent Accolades

Rated nationally for Patent Prosecution and Bio Life Sciences, by Managing Intellectual Property.

One of the world's leading patent practitioners for Prosecution and Transactions by IAM Patent 1000

Ranked as a top Tier 1, "highly recommended" firm for Intellectual Property in Massachusetts.

One of the "most active" law firms representing VC-backed companies in 2017, according to PitchBook

Ranked nationally in Middle-Market M&A, Buyouts and Venture Capital/Emerging Companies by The Legal 500

Majority of practice areas recognized for excellence

Majority of equity partners named Best in America